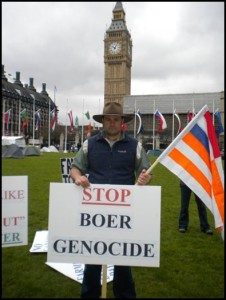 Westminster, United Kingdom — On Saturday morning, 8 May 2010, around 20 Afrikaners, referring to themselves as "Boere", conducted a "silent protest" in Parliament Square against what is known in South Africa as "Plaasmoorde" – Farm Murders. With their mouths taped up and without chanting any of the slogans on their placards ranging from "More than 3,000 farmers murdered since 1994" and "Families butchered everyday" to "No farmers, no food" and "Boer genocide = African famine" they symbolised the silence of the world press when it comes to the reporting of these genocidal killings.
Apart from two high profile murders which had enticed a couple of media reports for a week or two, these often very gruesome murders have gone largely unnoticed. When asked what the aim of the protest was, the organiser of the event, Wynand Krüger, said : " Whilst we acknowledge that South Africa's rampant crime leaves every citizen and tourist very vulnerable, we wanted to emphasise the ethnic nature of what we consider to be targetted attacks in order to scare and intimidate white farmers off their land. "Do you realize that Genocide Watch recently raised South Africa's threat level to Stage 5 out of the 8 possible stages of Genocide, referring to Boers and refugees as the potential victims ? That is why we also chose to display Boer flags here today; we consider "plaasmoorde" to constitute a process of ethnic cleansing that echoes the concentration camps of the Anglo Boer War.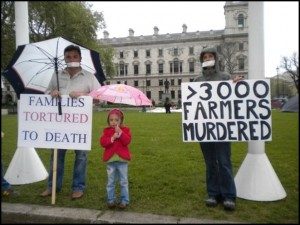 "No-one believed it then and no-one is believing it now. Our people need, and would be very thankful for, another Emily Hobhouse, hence the protest here in Parliament Square." One protester also commented that the ANC-dominated government's failure to adequately address farm murders, as well as its racially prejudiced policies towards ethnic minorities since Nelson Mandela stepped down, left her feeling marginalised and unable to identify with the new South Africa, its flag and the idea of a Rainbow Nation any longer. "The ANC preaches one thing, but practises another", she said. Another protestor wanted to know why Mr Mandela was so quiet on the farm murder issue, especially since the ANC defended Julius Malema's singing of the genocidal hate-speech song "Kill the Boer". "Mr Mandela won the Nobel Peace Prize in 1993, where is he now ? Last year he shared a stage with now president Zuma, thereby endorsing Zuma and the ANC during the previous election."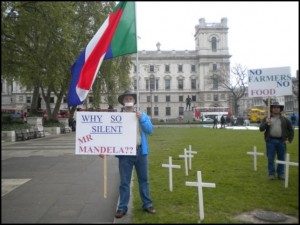 Bean Earle, chairman of the Jack Hindon Scouts in the UK, said : "the frightening statistics of more than 3,360 farmers being murdered in more than 10,000 attacks since 1994, the ANC's failure to discipline Julius Malema for his hate speech and calling for Zimbabwe-style land grabs, the fact that South Africa can now be mentioned in the same breath as Zimbabwe and Iraq (both listed as at stage 5 by Genocide Watch) when potential genocide is discussed, as well as the knock-on effect of these factors on dramatic drop in the food production in Sub-Saharan Africa, all send a multitude of shivers up one's spine. It is therefore unsurprising that there are serious doubts about the prospects for a peaceful future in South Africa. "Despite the protest in Parliament Square being a silent one, those present hoped that the message got across loud and clear, he said.
http://rahowadirectory.com/sacreativity/stop-boer-genocide-protest-uk/print/" >Print Friendly Page