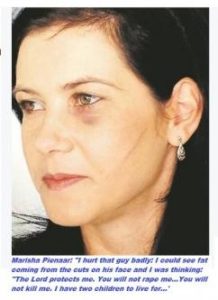 She's 1.5meters tall, weighs less than 50kg but she fought so fearcely against two burly black male attackers, that police launched an investigation to find out if any males were treated for deep slashes to their faces. The two thugs got between her two-year-old child inside the house – and the mom putting up the curtains. She said she fought for life or death. The thugs had to duck away for a sugar pot, a kettle and a very heavy table, which was brough down on the head of one of the savages. She grabbed a glass candelabra weighing about 1,5kg and smashed her attacker full in the face with it. "If I hadn't heard my child crying inside, the police would have opened a murder-dossier. I don't know how I got the strength, but I fought with everything at hand,' she said. She was busy putting up curtains. Every once in a while she would hear a rustling outside but saw nothing suspicious when she looked through the window.
She put her son Leonardo in bed and stayed with him until he fell asleep and then put back the garden-chair she had taken from outside to use while putting up the curtains. She sat on it briefly outside but when she heard the security gate creaking and a dark figure slip into the house, she realised her child was inside and somebody wanted to harm him. She rushed inside and ran full-face into the fist of one of the black home-invaders as she stormed in – while a second one was running down the hall and she heard her child screaming. Her attacker stopped her from coming to her child's rescue and that's when all her anger exploded and she started fighting fiercely so that she could get to her child. "I hurt that guy badly – I could see fat beneath his skin at one of the cuts and the entire time I was thinking, the Lord protects me. You will not rape me. You will not kill me, I have two children to live for."
The two blacks fled her home and she ran to her child, finding the teddy bear he usually sleeps with, in the hallway. She screamed for help but nobody outside came to her aid – then she ran down the street with her son in her arms towards her parent's home nearby. "It was very difficult to get the police to understand our street address. First we had to spell it than the woman just threw down the phone but someone heard the radio-call alert and arrived quickly," she said. The two thugs stole watches and some jewellery. Mrs Pienaar got a bruised eye, cuts and bruises and is traumatised after the attack, refusing for instance to take a shower if her husband isn't home, "because then I can't hear what is going on outside". She's grateful that her eldest son wasn't home at the time "or he would also have had to deal with this (trauma)," she concluded.
Middelburg Observer