To All Creators,
Listed here are the people that are illegally detaining me in the long term Intensive Management Unit (IMU) – solitary confinement – at Snake River Correctional Institution (SRCI).
777 Stanton Blvd., Ontario, Oregon 97914-8335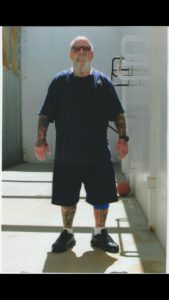 * Jamie Breyman
Administrator Office Population Management
2575 Center Street, Salem
Oregon 97301
* Greg Jones
Administrator Office Population Management
2575 Center Street, Salem
Oregon 97301
Phone: 503-945-0950
Fax: 503-373-1173
Email: DOC.Info@doc.state.or.us
The agents of JOG are persecuting me as a Creator. They are denying me all rights to Freedom of Religion, and no due process by keeping me in long term status, for which there is no listing for in Oregon Department of Corrections (ODOC). I believe this section is being used for abuse and control.
Remember to send those pictures my brothers. RaHoWa!
Rev. Dr. Joe, P.M.
---
Comment:
Pontifex Maximus, Reverend Dr Joe is strong and will withstand anything that the prison system throws at him. However, it is clear that solitary confinement is being used as a form of abuse. The simple fact is that P.M. Joe has kept his ass clean for more than two years now. Oregon Department of Corrections (ODOC) no longer have any valid or legal reason to confine Reverend Joe in solitary. We believe that it is the intent of ODOC officers to break Reverend Joe's will, with the intent that he might commit suicide, as so many of weaker will have already done.
Reverend Joe will not be broken!
Contact: PrisonMinistries@creativityalliance.com
---
News Article: Over 60% of Oregon Prisoner Suicides Linked to Isolation
Mark Wilson | Prison Legal News | 15 October 2008
https://www.prisonlegalnews.org/news/2008/oct/15/over-60-of-oregon-prisoner-suicides-linked-to-8232mental-illness-isolation
Excerpt: ODOC opened its first IMU at the Oregon State Penitentiary in 1991, as one of the nation's first supermax units. A second IMU was built at the Snake River Correctional Institution in Ontario, Oregon in the late 1990s. Prison officials claim supermax confinement is reserved for the "worst of the worst." While the "worst of the worst" can be found in supermax units, so can many prisoners who should not be placed in segregation.
Oregon criminal defense attorney Steven Gorham has visited many clients in ODOC's IMU. "The sensory deprivation comes from not having a lot of contact with people, being locked in that room for 23 ½ hours a day and not being able to get outside," he said. "It's all metal cells with metal doors…. There's no insulation to suck up the noise, so the overload in IMU is just horrendous."
DSU is comparable to IMU. Prisoners in DSU are locked in a cell 23 hours a day in extreme isolation for extended periods. In fact, in June 2007, prison officials at OSP began confining DSU prisoners in IMU.
The extremely harmful effects of isolation, even on prisoners who have no history of mental illness, are well known and indisputable. The conditions in supermax units like Oregon's IMU are so degrading and dehumanizing that a United Nations report described isolation in such units as torture.12
As early as 1890, the U.S. Supreme Court recognized the dramatic impact of solitary confinement, observing, "A considerable number of prisoners fell, after even a short confinement, into a semi-fatuous condition, from which it was next to impossible to arouse them, and others became violently insane; others still, committed suicide…."
Like many supermax units, ODOC's IMU operates on a "level" system. Incoming prisoners begin on Level One, where the conditions are the starkest and most restrictive.
They must remain there a minimum of 30 days and "earn" their way to each slightly less restrictive level. Reaching Level Four takes a minimum of six months and is a prerequisite to release from IMU confinement.
Prison officials tout ODOC's IMU as a "programming" unit where prisoners can attend anger management classes and behavior modification programs. However, as attorney Steven Gorham notes, "most of it's filling out forms, saying 'I'll be good. This [behavior] is what got me here.' It's cognitive stuff. Some of it can be very good.
According to an Oregon State Police investigation into the suicide of an IMU prisoner, guards in the segregation unit weren't watching the prisoners and would routinely falsify records to make it appear they were doing so.
An ensuing investigation revealed that while IMU guards were required to conduct tier checks – walk past and look into each cell – every thirty minutes, in the hours before the prisoner was discovered guards skipped at least two checks, then falsified paperwork to make it appear the checks were done.
When guards weren't doing tier checks, they would typically "socialize in the training room and play paper football," stated ODOC one guard. He offered additional damning testimony. The guard told investigators he had seen guards on both the day and night shifts falsify log books. In fact, "it was sometimes a nightly occurrence," a police report stated.
No criminal charges were brought against any of the guards, but a ODOC Spokesperson acknowledged in July 2007 that administrative action was being considered.