Creativity: A History

0AC (1973CE): Bernhardt "Ben" Klassen, a former Florida state legislator and state chairman of George Wallace's 1968 presidential campaign, announces the formation of a religion he calls Creativity and a church called the Church of the Creator, in Lighthouse Point, Florida. Ben Klassen becomes the first Pontifex Maximus or High Priest of Creativity. The tenets of P.M. Klassen's race-based religion, called "Creativity," are detailed in his book Nature's Eternal Religion. Among its 16 Commandments: "It is our sacred goal to populate the lands of this earth with White people exclusively."
8AC (1981CE): P.M. Klassen publishes his second book, The White Man's Bible, which he markets as "A program for the Survival, Expansion, and Advancement of the White Race."
9AC (1982CE): In March, P.M. Klassen moves Church headquarters from Florida to 23 acres of land he purchased in Otto, N.C., building a personal residence, a three-story church, a small warehouse and the "School For Gifted Boys."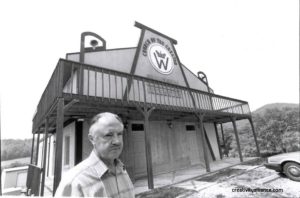 Later in the year, the Church of the Creator is granted an exemption from state taxes based on its status as a church.
10AC (1983CE): P.M. Klassen begins publishing a monthly newsletter, Racial Loyalty, in June.
13AC (1986CE): Creativity has its first known brush with the duality of criminal law in June, when in defence of church property, security chief Reverend Carl Messick, backed up by Reverend Joe Esposito, fires nineteen shots at the car of a Georgia licensed vehicle containing two people trespassing and threatening violence on church grounds. Although nobody is injured, Reverend Messick is arrested and sentenced to seven years in prison.
15AC (1988CE): Klassen, now aged seventy, travels to California to ask John Metzger, son of White Aryan Resistance founder Tom Metzger, about taking over Creativity. Metzger, politely declines.
16AC (1989CE): A review by Macon County tax officials concludes that the church's North Carolina property does not qualify for religious tax exemptions.
In May of the same year, two Milwaukee Church members are arrested while defending themselves against brawling anti-racist thugs.
17AC (1990CE): Declaring that Church leadership would change "at the top of every decade, on the decade," P.M. Klassen announces that Reverend Rudy "Butch" Stanko will take over.
On September 15, eighteen year old Reverend Brian Kozel – White Beret (Church Security), is murdered by Mexicans while distributing Church material in Milwaukee, Wisconsin. This tumultuous event is forever commemorated in the Creator Calendar as Martyrs' Day, otherwise known as Kozel Day.
18AC (1991CE): In May, Reverend George Loeb shoots and kills in self defense a black man that had attempted to smash Reverend Loeb's head with a house brick he had deliberately picked up for the purpose. Reverend Loeb, whom P.M. Klassen had earlier honored as "Creator of the Month," is ultimately convicted and sentenced to life imprisonment with a non-parole period of twenty-five years. His wife Barbara Loeb is sentenced to one year in prison on weapons possession charges. Reverend Loeb's conviction ultimately leads to the demise of the premier Church of the Creator.
Also in November, Macon County, N.C., officials revoke the church's tax-exempt status.
19AC (1992CE): P.M. Klassen's wife Henrietta Dies of cancer in January. Following events prevent Reverend Stanko's scheduled inauguration as the Church's next Pontifex Maximus and two months later, P.M. Klassen names Baltimore leader, Reverend Charles Altvater as potential leader of Creativity.
In June, P.M. Klassen names twenty-five year old Milwaukee Church leader, Reverend Mark Wilson (AKA Reverend Brandon O'Roarke), as the new Pontifex Maximus of Creativity. P.M. Wilson remains in the position for approximately six months.
The next month, (correctly) anticipating a malicious civil lawsuit in connection with the Mansfield death, P.M. Klassen places most of the Otto property on the market. The price already lowered to a minimum and with no interested buyers, P.M. Klassen agrees to sell the property to Doctor William Pierce of the National Alliance. Reverend Will White Williams, former Hasta Primus for P.M. Klassen and then current assistant to Doctor Pierce agrees to act as a go-between for the transaction. A meeting is arranged and the sale takes place. Although everything is above board, the Southern Poverty Law Center will later claim otherwise. Profits from the sale are given to P.M. Wilson, who later uses a portion of the funds to found Resistance Records.
Years later, Reverend Williams will later rejoin Creativity after Dr Pierce' death, as a leading member of the Creativity Alliance – Church of Creativity Tennessee. Reverend Williams again leaves Creativity on good standing, and takes up position as the leader of the revived National Alliance. Leading members of the National Alliance and the Creativity Alliance consider the two very similar Non-Theistic White Racial Organizations to be Brothers in Arms.
In December of 19AC, shortly after publishing his final, autobiographical book, P.M. Klassen names his successor: Florida psychologist, Doctor Richard "Rick" McCarty as the Church's third Pontifex Maximus.
20AC (1993CE): In one of his first acts as Pontifex Maximus, Doctor McCarty moves Church headquarters back to Florida in January.
On August 7, seventy-five year old Ben Klassen, Pontifex Maximus Emeritus, in great pain and dying from illness, takes his own life by swallowing four bottles of sleeping pills. He is buried in a special plot on the Church property in North Carolina.
Later that year, Toronto Church leader and Rahowa band lead singer George Burdi (as Reverend Eric Hawthorne) helps form Resistance Records with former Pontifex Maximus Reverend Mark Wilson, based in Detroit, to record and market racial rock music. Creativity for a time becomes a uniquely skinhead based cult. Burdi is later arrested for assault while defending himself in a riot caused by "anti-racist" demonstrators. He is imprisoned for several weeks before all charges are dropped. Burdi eventually denounces all forms of racial loyalty – in particular the skinhead music scene that he helped to form and chose to surround himself with, and which would continue to influence Creativity until the advent of the Creativity Alliance ten years later.
21AC (1994CE): Representing the family of the black, Harold Mansfield, the Southern Poverty Law Center files suit against the church in March, alleging the group is responsible for his death. The family is wrongfully awarded a $1 million default judgement when Pontifex Maximus, Reverend Doctor Rick McCarty refuses to contest the case, resigns as Pontifex Maximus and de-registers the Church of the Creator Florida as a business entity.
Later, the Southern Poverty Law Center will sue Doctor Pierce for participating in P.M. Klassen's efforts to keep Church property free from malicious lawsuit. Ultimately, the SPLC wins a judgement for $85,000 — the profit Doctor Pierce and the National Alliance realized after selling the North Carolina Church property.
22AC (1995CE):  Twenty-four year old college student, Matthew Hale, declares himself to be a Reverend of Creativity and forms a new church organization which he calls the "New" Church of the Creator – which he later renames as the "World" Church of the Creator. Church "Headquarters" is situated in Reverend Hale's bedroom, in the cellar of the home he shares with his father in East Peoria, Illinois. Although not a direct follow-on from P.M.E. Klassen's Church of the Creator, Reverend Hale's new group has limited success until its demise just seven years later with Reverend Hale's arrest in 30AC.
23AC (1996CE): Reverend Hale convenes a meeting of a newly reconstituted Guardians of the Faith Committee at the Montana ranch of Church Leader Reverend Slim Deardorff (formerly of the premier Church of the Creator) where Reverend Hale is elected Pontifex Maximus of the newly formed group — including Church founder, Ben Klassen, Reverend Hale is the fourth Pontifex Maximus of Creativity since its founding in 1973. Following the meeting, Reverend Hale demands that all remaining Creators from the premier Church of the Creator either leave Creativity or swear a personal oath of allegiance bonding them directly to him. Many Creators reject Reverend Hale's demand and prefer instead to join the National Alliance under Doctor Pierce, where they continue to refer to themselves as Creators. Many of the original Creators later return to Creativity after Reverend Hale's arrest and Doctor Pierce's death shortly thereafter (see the Church of Creativity 30AC).
24AC (1997CE): The Church begins a Web site maintained by Reverend Jules Fettu and Brother Thomas William Jackley (both formerly of the premier Church of the Creator) in Florida.