NINE OPERATIONS: A PROGRAM OF ACTION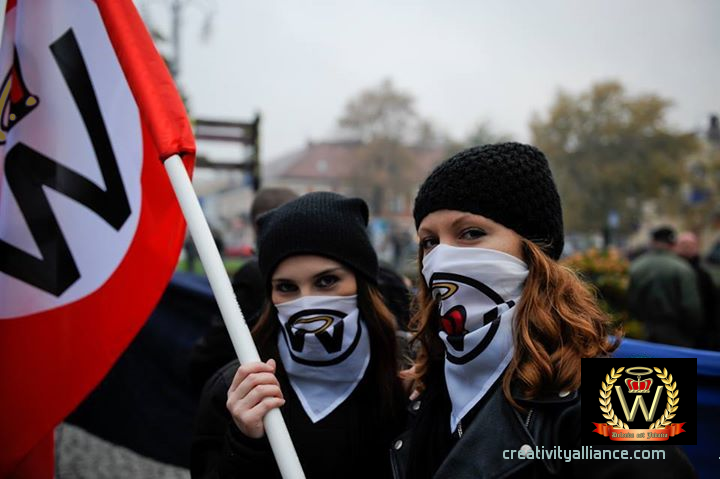 We would like to restate the main goals and challenges facing our Religious Creed.
Now that the first (IDEOLOGICAL) stage of our Creed has been successfully completed, our main goal must be RAPID, AGGRESSIVE. MASSIVE EXPANSION of the Creed of Creativity through the concerted programs of THE SEVEN OPERATIONS:
1. OPERATION "WEB HOME"
— To increase the frequency (and volume!) of our message by turning our Website, our Forum and our Newsletter – RACIAL LOYALTY, into informative, printable publications for use in both online and offline dissemination. This I consider to be the matter of Top Priority No. 1: Its success is a prerequisite for our success in all the other projects. To achieve this very important goal, we need more submissions for our Website, Forum and Newsletter from the activists in the field. Also our present resources at the Global and various National Offices do not permit us to increase our staff. Therefore each Creator must feel a sacred duty to support the Global Office of the Creativity Alliance with regular and generous financial contributions to be sent through the Office of their National Coordinator.
2. OPERATION "PRIMARY GROWTH"
– During this new (ORGANIZATIONAL) stage of our development, all Creators must become self-starting Activists/Organizers of CHURCH PRIMARY GROUPS at the grass-roots level all over the this Planet Earth. Each Creator must feel a duty to organize/expand a CHURCH PRIMARY GROUP whose members will take their place in accordance with the FIVE-STEP PYRAMID PRINCIPLE in the Creativity Alliance Five-Level Pyramid of Organization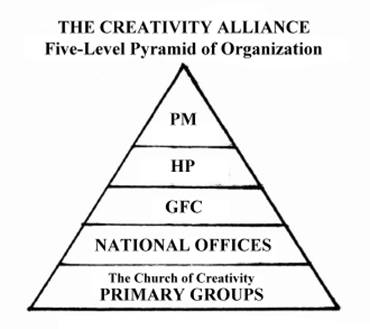 3. OPERATION "STRONG CENTER"
— To assure organizational continuity of a strong central leadership of the Creativity Alliance by organizing the Church leadership in accordance with the FIVE-STEP PYRAMID PRINCIPLE as follows: PONTIFEX MAXIMUS, CHURCH ADMINISTRATOR / HASTA PRIMUS, GFC, NATIONAL OFFICES and CHURCH PRIMARY GROUPS. Also, we should institute annual Membership Congresses and Activist Leadership Conferences, as well as expand our Youth activities.
4. OPERATION "INTERNET BLITZKRIEG"
— Requires (a) More Creators to step up and register as PG CONTACT POINTS; (b) The creation of more local Church web sites and blogs; (c) A dedicated group of individuals to form an INTERNET BLITZ TEAM, with the task of making a coordinated concerted effort to blitz any targeted social networks and forums on the internet with messages promoting our Religious Creed – And then just as quickly move on to another target.
5. OPERATION "STREET ACTION"
— Organized into the Primary Groups or individually, we must start our STREET ACTION to frequently and systematically confront the broad masses of White people with our Presence and our Message through various STREET ACTION methods and techniques, such as: Leaflets, posters, banners, signs, bumper stickers, T-shirts, business cards, templates for spray-paint jobs on walls and sidewalks, displays on freeway overpasses, as well as marching, demonstrating and, let's not, forget, driving around with displays on rented U-haul trucks. Of course, paid ads in various publications, should also be an integral part of our intensive expansion campaign. All of these expansion methods and techniques should consistently expound our Central Message:
WHITE PEOPLE AWAKE!
SAVE THE WHITE RACE!
In preparation for the OPERATION "STREET ACTION, we must: (a) Arm our Logo, Flag and Masthead with our rallying SOUND BITE: "WHITE PEOPLE AWAKE! SAVE THE WHITE RACE!" (b) Adopt the WHITE HAT/WHITE CAP/WHITE BERET UNIFORM; (c) Obtain and carry with us at all times the concentrated essence of our ideas in an easy-to-carry, pocket-size eclectic compendium – THE LITTLE WHITE BOOK.
6. OPERATION "WHITE YOUTH"
— To contact, attract and organize under the victorious flag of the one and only White Racial Religion, CREATIVITY, all White youth. In order to appeal to our youth, we must take at least the following steps: (a) Revitalize the CREATOR KIDS' web site; (b) Create a youth section for the Newsletter, which could be titled "CREATOR YOUTH – YOUNG WHITE WARRIORS"; (b) Put all known White youth and kids' organizations and individuals on our mailing list; (c) Organize youth leadership seminars and youth camps; (d) Organize frequent and systematic STREET ACTIONS (leafleting, wall and sidewalk slogan painting, etc.) on college and high school campuses.
7. OPERATION "FREEDOM!"
– Under the guidance of the appointed Imperator of Prisons, contact and provide moral and material-help to jailed White activists.
8.OPERATION "WHITE ETHNIC"
— To contact and attract into our ranks large numbers of White Ethnics, various culturally distinct Europeans – European-Americans, European-Australians, European-Africans – by issuing direct appeals to them and organizing White Ethnic Sections of the Creativity Alliance. White Ethnic Sections could concentrate on: (a) spreading our word in their communities, (b) translating our works into their own languages, and (c) helping to spread our ideas in their "old countries" in Europe.
9. OPERATION "GLOBAL"
— To organize active branches of the Creativity Alliance in ALL White countries, especially in major European countries, the United States and Canada, South Africa and Australia. Obviously, the success of our OPERATION 'WHITE ETHNIC" could greatly facilitate (through translations and pre-established contacts) the spread of our ideas across the world and thereby help our OPERATION "GLOBAL".
---
THE DAILY AFFIRMATION OF OUR PRINCIPLES
Each Creator must realize that his personal dedication and commitment to the Sacred Cause of the One and Only White Racial Religion is the key factor in winning the worldwide Racial Holy War and assuring the survival, expansion and advancement of our precious White Race. For increased dedication and commitment, let's read the sacred books of Creativity on a daily basis. They are the best books ever written in the 6000 years of White civilization.
WE BELIEVE that our Race is our Religion.
WE BELIEVE that the White Race is Nature's Finest.
WE BELIEVE that racial loyalty is the greatest of all honors, and racial treason is the worst of all crimes.
WE BELIEVE that what is good for the White Race is the highest virtue, and what is bad for the White Race is the ultimate sin.
WE BELIEVE that the one and only, true and revolutionary White Racial Religion – Creativity – is the only salvation for the White Race.
"To the fulfillment of these religious beliefs, We Creators forever pledge our Lives, our Sacred Honor, and our Religious Zeal.
RAHOWA!"