From South Africa | News24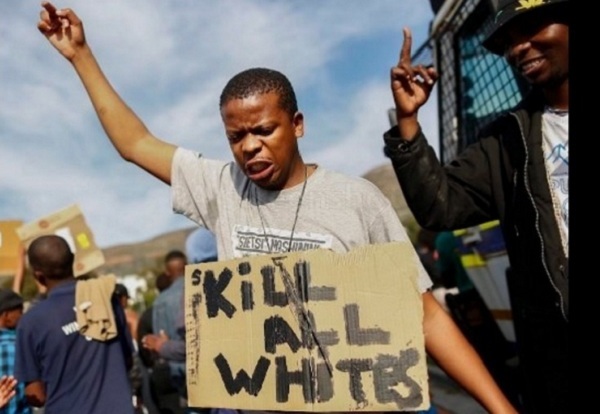 Durban – A Westville homeowner fought off a gang of knife-wielding home invaders who threatened his family on Wednesday night. Yuri Reinders managed to disarm one of the men who had stormed his Thames Road home, near Durban, and stabbed him repeatedly as they fought. Reinders escaped without injury.
Speaking to News24, his partner Lucille Coetzee said that the ordeal began in the early evening. "We had been sitting down for dinner and the dogs started barking. At the time I thought it might have been a new cat which belongs to tenants in our garden cottage. My 13-year-old step daughter went to see what was going on," she said.
"She saw guys on the veranda and screamed. They rushed her and held a knife to her throat and brought her back into the house. There were five of them and they all had knives. (Just shows what cowards these negroes are)
"It was chaos with them screaming at us. I managed to get my stepdaughter away from them and we, along with our domestic worker and her child, rushed into the kitchen."
Reinders said that when he saw his family was out of harm's way, he sprang into action. "I wanted to get them away from my daughter and I wasn't prepared to tolerate them in my house. They thought they could put a knife to my daughter's throat and that was not happening without me fighting back," he said.
"I got the knife away from one of them and while we were fighting I stabbed him three times. I think when they saw that I was putting up a fight they ran off. What was strange is that I thrust the knife hard and there was no blood."
The gang fled into the bushes with cellphones, a tablet and Coetzee's handbag. Reinders said that they had convinced their domestic worker to move in with them, after she had fallen victim to armed robbers at her own home. "We got her and her 4-year-old daughter to move in because it would be safer. They have literally been through a terrible ordeal twice now. Westville police took over an hour to get to our house, lucky for us our neighbour pressed a panic button and their security company was on the ball."
A police spokesperson said that there was no record of the robbery. [Now isn`t this typical of the illegal communist ANC regime?]