On Saturday, 19th April, 23 activists took to the streets of London to demand an end to the destruction of the Boer people in South Africa.
The day started with activists gathering near Charing Cross promptly at 1pm, from there they moved on to South Africa House where a flash demonstration took place for nearly an hour. A group of ordinary people quickly assembled around our demonstration as onlookers listened to speeches expounding on the problems White people face in South Africa and urging action to be taken immediately to stop further bloodletting of White people.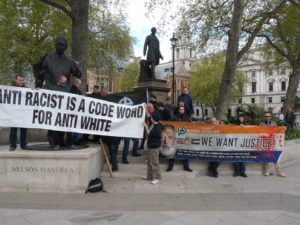 We were also bearing flags representing the old South African republic, White Solidarity and Social Nationalism; and armed with a large banner emblazoned with a quotation from the late AWB leader, Eugene Terre'Blanche, our message was loud and clear : STOP BOER GENOCIDE !
After hitting South Africa House, we moved on to Parliament Square where our anti-Genocide banner and a banner featuring the Mantra were unfurled; much to the annoyance of the assorted Mandela sycophants wanting to worship their false idol. The activity was then concluded with by a short talk from the organiser expressing his thanks to the people who attended.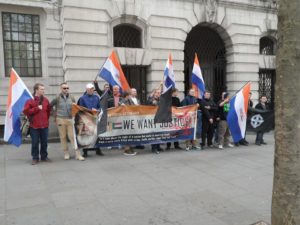 The importance of events like this cannot be overemphasized. Public displays of White defiance against the multiracial society are important in galvanizing people to action – it is only when we get off our arses that people starting notice. It's that simple. The keyboard warriors need to be derided and real activists need to be applauded as fine examples to our race at a time when we are under sustained attack from the System.