For More Information Visit Creator Forum Topic:
The Australian National Anti-Gang/Anti-White Taskforce
By Daniel Wills
The Adelaide Advertiser (South Australia) | 4 September 2008
http://www.news.com.au/adelaidenow/story/0,22606,24293389-5006301,00.html
POLICE say they are ready to take imminent action to outlaw criminal bike gangs after tough new State Government legislation came into effect today.
The Serious and Organised Crime Act allows Police Commissioner Mal Hyde to apply to Attorney-General Michael Atkinson to outlaw individual gangs and place severe restrictions on their members.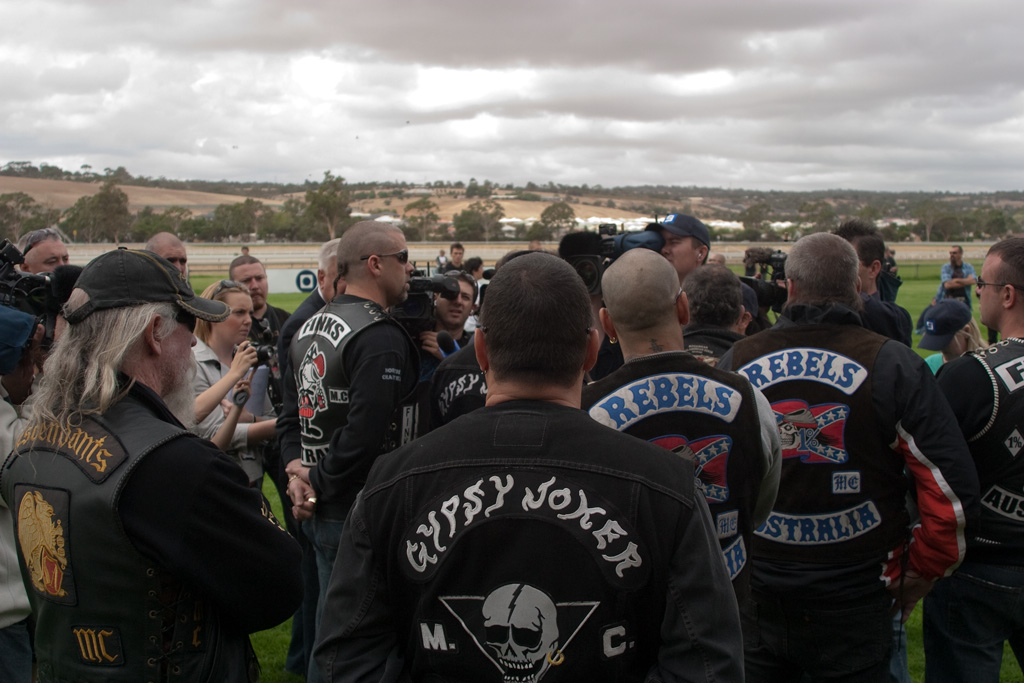 Assistant Police Commissioner Tony Harrison this afternoon said police had been gathering information for some time and would soon move against the gangs.
"A lot of preparatory work has been ongoing and I wouldn't anticipate it would be too far down the track before we'd be in a position to make the first of those applications," he said.
"What we have been doing is considering all of the outlaw motorcycle gangs and their respective criminal activity.
"We've been going through a fairly comprehensive process in relation to consolidating our information.
"The legislation will allow police to take a very different approach in terms of the policing of outlaw motorcycle gangs.
"Outlaw motorcycle gangs have been able to operate effectively for some time because of their criminal associations. I would anticipate that over a period of time we will start to see those associations become more difficult to maintain."
Attorney-General Michael Atkinson said bikie gangs had been put on notice and were not welcome in South Australia.
"The message of the Rann Government to the individual gang members is leave the gang or leave the state," Mr Atkinson said. "We will pursue them until they do."
Under the Serious and Organised Crime Act, once the Attorney-General outlaws a bikie gang based on evidence provided by the police a magistrate can then make control orders against gang members, restricting their movement, ability to associate and possess weapons.
A penalty of up to five years' jail will apply for breaking the order.
Police would also have the power to to issue 72-hour public safety orders banning gang members from going to a public place or attending events.
Opposition police spokesman David Ridgway accused the Government of dragging its heels on the issue.
"It is clear that the enforcement of this Act is not a priority of the Rann Government," Mr Ridgway said.
"In the past three months there have been bikie related shootings, a murder, home invasions, raids on drug labs and a cache of illegal firearms uncovered.
"Parliament gave police the tools to fight the growing bikie menace but the Rann Government have dragged its heels for more than three months."
Meanwhile, police made no arrests during a major raid on a Gypsy Jokers compound in Wingfield this morning.
Police failed to uncover any illegal property or weapons in the Francis Road raid, which began at 10am.
---
Comment:
The following was left on The Advertiser website.
Consider that the primary figure pushing the implementation of these "anti-bikie" laws is the Attorney General who also holds the title of Minister for Multicultural Affairs. It's quite likely that the government is using bikers as the bogeymen of society to divert YOUR attention from the reality of the "multicultural" crime gangs such as 49 and Middle East Boys. As for the laws themselves, as others have already pointed out, they can and will be used on the average person who has absolutely no relationship with bikers. All of which are against numerous UN freedom of association rules, regulations and treaties.