White supremacists target Penrith
Omar Hamwi: Penrith Press | March 29, 2010
http://penrith-press.whereilive.com.au/news/story/white-supremacists-target-penrith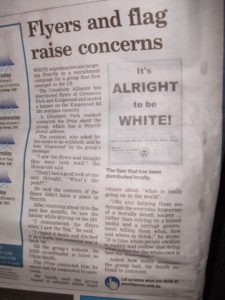 WHITE supremacists are targeting Penrith in a recruitment campaign for a group that first emerged in the US.
The Creativity Alliance has distributed flyers at Glenmore Park and Kingswood and posted a banner on the Kingswood Rd M4 overpass recently.
A Glenmore Park resident contacted the Press about the group, which has a Penrith postal address.
The resident, who asked for his name to be withheld, said he was "disgusted" by the group's message.
"I saw the flyers and thought they were junk mail," the 18-year-old said.…