Recent Posts
1
« Last post by Private on Today at 22:41 »
2
« Last post by Private on Today at 22:39 »
US cities prepare for nationwide 'White Lives Matter" marches
April 10th, 2021
US cities are bracing for a far-right "White Lives Matter" march that is expected to take place on April 11 after being coordinated online, according to a Newsweek report on Friday. The march was allegedly organized by white supremacists through Telegram, a popular social media and encrypted messaging application. Dozens of events are expected to occur in major cities such as New York City, Fort Worth, Texas and Chicago among others. Details surrounding the march remain unclear, including the exact locations in which they are expected to take place, according to Newsweek. Two white supremacist events will take place in North Carolina, one in Raleigh at Nash Square, and another at the The Zebulon Baird Vance Monument in Asheville. Both the Raleigh and Asheville police noted that they are aware of the white supremacist marches.

In the California city of Newport Beach, KKK flyers promoting the April 11 march have appeared throughout the region, prompting the Huntington Beach Police Department to confirm that they are taking measures to avoid violence. Toward this end, the men and women of the Huntington Beach Police Department will professionally and impartially perform their duties. I can assure you, we will not tolerate any acts of violence or criminal behavior meant to intimidate others, the statement added." Another white supremacist event planned in Ohio has also caught the eye of police. "Troopers will be present to keep people safe and protect the property during any protest. Read more ...




3
« Last post by Private on Today at 19:17 »
Biden wants probe into white supremacist beliefs at immigration agencies
April 10th, 2021
Nobody really cares who or what you are
President Joe Biden called for funding to investigate complaints of white supremacist beliefs at US immigration enforcement agencies
in his first budget request to Congress on Friday, but
officials offered no explanation for what prompted his request.
The Biden administration is asking Congress to increase the funding level for workforce oversight offices within US Customs and Border Protection and US Immigration and Customs Enforcement (ICE) to $470 million, a 22% increase over the current level, for the fiscal year that begins in October.The additional funding would ensure that
workforce complaints – "including those related to white supremacy or ideological and non-ideological beliefs" – are investigated quickly
, according to a summary of Biden's budget proposal. It was unclear whether any specific incidents sparked the call for the increased funding.
The US Department of Homeland Security and the White House did not immediately respond to requests for comment. The Biden administration has made battling domestic extremism a priority.
An October 2020 DHS report said domestic violent extremists, including white supremacists, pose "the most persistent and lethal threat" to the United States
. Border patrol agents faced scrutiny in 2019 when media outlets exposed racist and misogynistic comments posted to a private Facebook group for current and former agents."...
Funny the fake news and the democrats want to hide this, but insist on calling Donald Trump "a racist"

Villareal, who retired in December, said he supports "rooting out the bad apples" but said there was not widespread white supremacy and racism at CBP.Hispanics made up more than half of the Border Patrol workforce in 2016, according to DHS data.Some advocacy groups have called for greater oversight of US immigration enforcement agencies, however.In a February report, the Washington-based American Immigration Council said the Border Patrol has been "steeped in institutional racism" since its creation in 1924. The report detailed past instances of agents using racial slurs, sexual comments and other offensive language.
4
« Last post by Private on Today at 17:34 »
MSM Reports from Peaceful BLM Riots Protests - Everything's Fine


5
« Last post by Private on Today at 13:39 »
Admin Note
: We Creators are not trying to "ignite a racial holy war." On the contrary, We Believe ... We Expect ... We Know that a Bloody Racial War is coming. A war where the Colour of Your Skin is Your Uniform! We Whites will not start it - We did not start it. In fact, the Racial Holy War is already upon us, but as a form of Cold War combined with Anti-White Lawfare.
Prepare yourselves, because a global Bloody Racial War is coming - and with CREATIVITY at the forefront, the White Race shall Triumph over the inferior Mud Races, and we will win this Racial Holy War.
RaHoWa!Part 1
After a short but controversial run in politics, Ben Klassen founded the Church of the Creator in 1973. The avowed white supremacist used this new venture to spout racist rhetoric, foster hate amongst his followers, and attempt what he never could in office: igniting a racial holy war.
https://podcasts.apple.com/us/podcast/the-church-of-the-creator-ben-klassen-and-matthew-hale-pt-1/id1286818575?i=1000514984651
Part 2
When Ben Klassen died by suicide in 1993, Matthew Hale picked up his mantle as leader of the sputtering Church of the Creator. Hale was a young college student from Illinois, whose own plans to enact a racial holy war erupted in violence in 1999.
https://podcasts.apple.com/us/podcast/the-church-of-the-creator-ben-klassen-and-matthew-hale-pt-2/id1286818575?i=1000515944887
---
Matt Hale lost us our name, CHURCH OF THE CREATOR. The official CHURCH OF CREATIVITY stance is that Hale did this deliberately, in order to turn CREATIVITY into yet another Big Tent Nazi Movement. Hale also had a history of attempting to have CREATORS murdered - by his FBI Rat.
Hale was convicted as a terrorist under retroactive laws that did not exist when he was arrested. He was sentenced to 40 years as a Domestic Terrorist on the "Hearsay" of the Rat. A wrongful sentence for many reasons; such as a Jew arranging for actual shots fired through a judge's window in a murder attempt only received five years. Still, Hale's actions are an eternal shame for the psychopath that claims to own CREATIVITY.
However, the CHURCH moved on ....
Be aware, that if you are a member of the CREATIVITY ALLIANCE, then Matt Hale hates you. If you are dumb enough to write to him, he will attempt to con you. The end result of one of Matt's successful cons is usually a few broken bones for his cons/his marks, care of our oh-so-studious WHITE RANGERS. FYI That's ANY CREATOR prepared knock heads when needed.
Where Matt Hale is involved - Where Matt Hale is allowed to talk, people are manipulated and murdered. Many CREATORS blame Matt for Brother Ben Smith's actions; and so do I.
What Brother Ben did was, and remains a tragedy for all. Your life was wasted for one man's ego.
Still, one cannot deny the man his bravery. Forget Matt; HAIL BEN AUGUST SMITH!
Cailen.
6
« Last post by Private on Today at 11:45 »
7
« Last post by Private on Today at 10:43 »
Flyer: White Lives Matter - Adelaide SA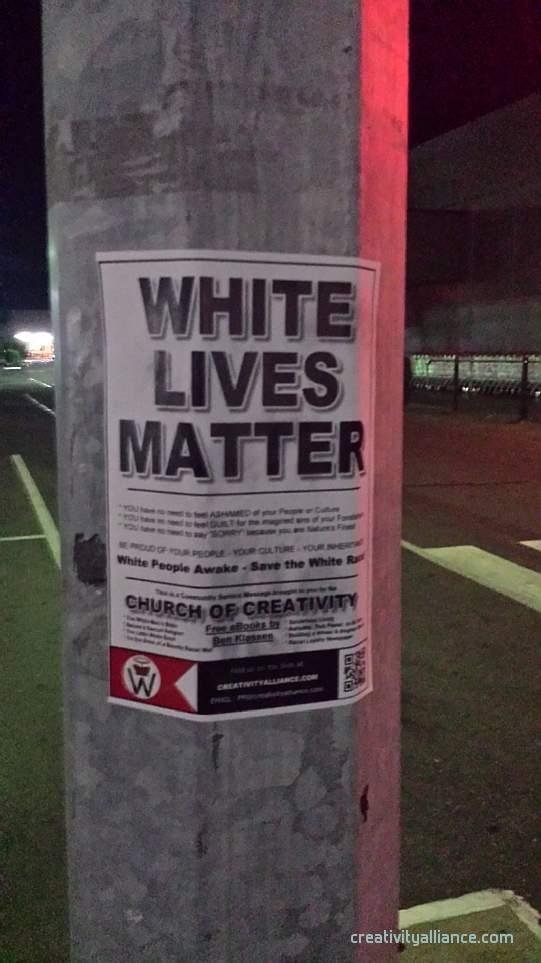 https://creativityalliance.com/forum/index.php?action=gallery;sa=view;id=2875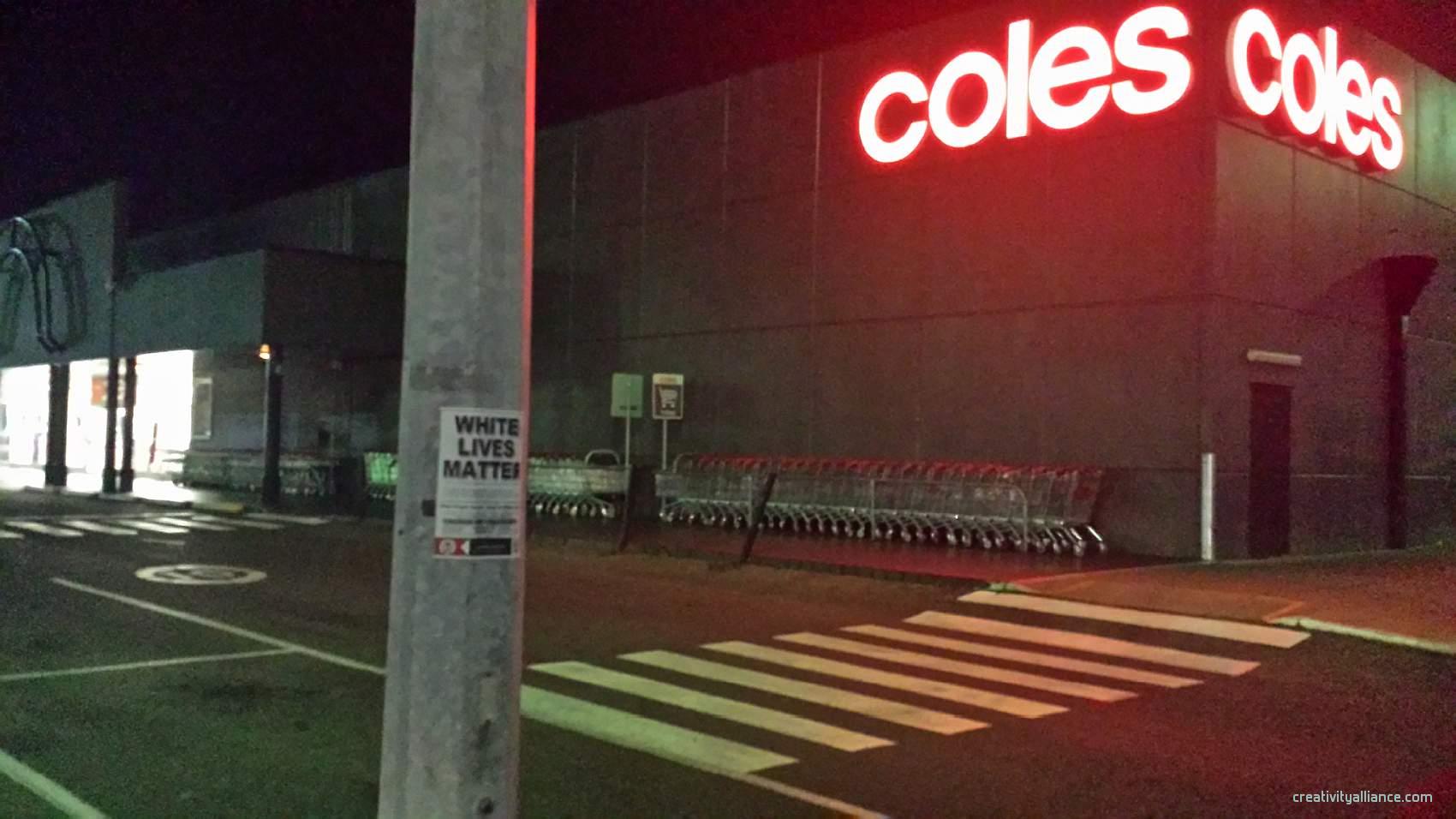 https://creativityalliance.com/forum/index.php?action=gallery;sa=view;id=2877
1 of 50 White Lives Matter - Creativity Alliance
Sunday 11 April 2021
8
« Last post by Private on Today at 09:09 »
Although Breitbart, being terrified of the Jew as it is, instead says ...
ADL Exploits Wikipedia to Promote Group and Attack

Conservatives
TD Adler |
Breitbart
(USA) | 10 April 2021
https://www.breitbart.com/tech/2021/04/10/adl-exploits-wikipedia-to-promote-group-and-attack-conservatives
Numerous Wikipedia users working for the Anti-Defamation League (ADL) have been persistently adding references to the group in various articles. The scheme included attempting to mention ADL claims about antisemitism in the article about the reddit-driven stock market boom in video game retailer GameStop. The ADL editing campaign is another example of rampant efforts by paid editors and those with conflicts of interest to exploit the site's open editing model.
Several ADL accounts directly edited the group's Wikipedia page with one's edits heavily slanted in favor of the group and including attacks on former President Donald Trump. The ADL editing campaign is another example of rampant efforts by paid editors and those with conflicts of interest to exploit the site's open editing model. The ADL has now ended its Wikipedia campaign amidst a wave of controversy.
Accounts claiming affiliation with the ADL have been active on Wikipedia since May of last year according to a page set up for their efforts. The effort was described on the page as being about "Adding ADL content to Wikipedia, in line with the conflict of interest policy and in collaboration with the Wikipedia community." Nine accounts are listed as participating in the campaign. One included the ADL in his username, while another used a full real name and claimed to be editing on behalf of the ADL's communications team. Every account disclosed affiliation with the ADL.
In a statement to the Forward, a representative for the ADL Todd Gutnick confirmed the accounts were paid ADL staff, stating the organization had hired "an experienced Wikipedia editor" to train its staff. Gutnick claimed all policies were followed stating "ADL staff members who contributed were fully transparent," citing their disclosures of affiliation consistent with Wikipedia guidelines on users with conflicts of interest. "ADL experts have extensive knowledge to offer this public discussion and several of them saw an opportunity to contribute that expertise, particularly based on years of tracking extremism," Gutnick said, according to the Forward.
The editing campaign by the ADL was noted in late March by editor "Graywalls" at a community noticeboard for reporting accounts with alleged conflicts of interest. While stating the ADL is considered a "reliable" source on Wikipedia, Graywalls objected to the accounts inserting ADL links repeatedly into articles and argued this could create issues with neutrality by giving undue weight to the group's perspective and insisted this would apply even if they were employees of the BBC or New York Times, the two most-cited media outlets on Wikipedia.
Graywalls removed several instances of edits made by ADL accounts when reporting their activity, including ADL edits emphasizing claims of bigotry related to the coronavirus pandemic. In one case undone by Graywalls, a brief article on a hate crime bill had nearly half its contents cited to an ADL press release. Some ADL changes had already been reversed before the campaign came to wider attention, such as those smearing protests about 2020 election fraud and one that added a section on "extremist disinformation" during the election, which heavily quoted from an ADL report.
One edit mentioned "extremists" praising teenager Kyle Rittenhouse, who last year in Kenosha, Wisconson, shot several Black Lives Matter supporters attacking him and killed two. That edit was apparently undone inadvertently when moving content from the Kenosha unrest page to an article about the shooting. Another edit cited the ADL for a "conspiracy theorists" section on the article about the GameStop short squeeze, where redditors fueled a surge in the video game retailer's stock price. The section focused on antisemitic comments, particularly by neo-Nazi Andrew Anglin. Following a fight over the section, it was removed by editors arguing the comments received undue weight.
Removals by Graywalls were contentious due to the ADL being considered a "reliable" source on Wikipedia. Editor "Beyond My Ken" restored many of the edits using the anti-vandalism rollback tool, which is not supposed to be used for contentious edits. However, in several cases, Graywalls removed the material again without incident. Among the edits Beyond My Ken tried to restore was one inserting three paragraphs about antisemites and white supremacists supposedly praising Ashli Babbit, an unarmed protestor who was shot dead by police during the storming of the Capitol in January.
More intense feuding took place regarding edits citing the ADL blog for attacks on Epik, the domain provider for alt-tech sites such as Gab and BitChute, with the ADL smearing the services as "right-wing extremism" outposts. Much of this content was restored by "Grayfell" as well, an editor previously involved in pushing a left-wing agenda on Wikipedia such as by smearing conservative documentary filmmaker Lauren Southern. The material was eventually removed both inadvertently by an editor moving BitChute material to the Epik page from the site's main article and an editor removing the material about Gab for mostly being about Epik CEO Rob Monster.
In many cases, the edits were ultimately kept as on the article about the Three Percenters militia and on the article for Black Lives Matter, where an ADL account inserted a "disinformation" section cited entirely to the ADL that focused on obscure social media trolling campaigns. The Oath Keepers article saw a contentious discussion and fight over the ADL material, which ended by including a less inflammatory version. On the article about the far-left Antifa group, an Antifa supporter and self-proclaimed Marxist restored an ADL account's material, which called journalist Jack Posobiec a "conspiracy theorist" in one sentence. Another editor condemned the initial removal during a discussion as "wrong-headed" and accused Graywalls of "disruption" for undoing ADL edits.
Edits by an ADL account to the page on Parler, a free speech Twitter alternative, were undone and restored prior to discussion about the editing campaign, but a fight resumed after Graywalls removed the material again only for it to be restored again. The edits cited the ADL for claims about "calls to violence" on the site prior to its temporary shutdown over such claims of inciting violence at the Capitol. A fight also occurred at the antisemitism article with discussion leading to the ADL account material being restored. Some material added to the antisemitism page was left untouched with other pages that saw edits promoting ADL completely untouched.
ADL accounts also edited the group's page directly. While one account's edits were minor, editor "Hersei" made extensive contributions expanding the article by nearly 50 percent. In a flurry of edits prior to the broader ADL editing campaign, Hersei expanded the ADL page introduction to portray the group as non-partisan citing left-wing criticism of pro-Israel stances and right-wing criticism of its "civil rights agenda" mostly citing opinion pieces. Other changes included a section on "fighting antisemitism" loaded with emotionally-charged language about hate crimes often citing the ADL itself or sources not mentioning the group. Hersei also removed some criticism of the ADL's prior reluctance to acknowledging the Armenian Genocide.
Other edits touted ADL opposition to "anti-LGBTQ+ laws" and labeled its pro-abortion stance "support for women's equality and reproductive choice" in one section. Edits highlighted ADL support for Rep. Ilhan Omar (D-MN), briefly noting criticism of remarks they deemed antisemitic. Aside from noting support of Trump's pro-Israel positions, many edits involved criticism of Trump, noting ADL complaints about Brett Kavanaugh's Supreme Court nomination and describing the ADL "calling out" Trump for "use of antisemitic tropes" as well as referencing the "Charlottesville hoax" by claiming Trump gave "support" to white supremacists. Further edits criticized Trump's "incitement of anti-Asian American hate" referring to comments about the coronavirus pandemic.
Hersei's edits to the ADL page were being rejected at an early stage in several cases with numerous edits being undone after the broader ADL editing campaign was brought to wider attention. One edit reverted had called the police shooting of Rayshard Brooks a "murder" and been present in the article for half a year. Wikipedia editors poring over the ADL page identified numerous unrelated instances of inappropriate additions to the article and removed them. Despite these efforts, a large portion of the edits by Hersei remain with the remaining material by the ADL staffer being roughly a quarter of the page's contents.
Discussion of the editing campaign saw many editors, including those who otherwise support the ADL, criticizing the efforts and insisting they cease. Others noted guidelines on Wikipedia only strongly discourage editing about one's employer and no policy explicitly prohibits it when it is disclosed and other policies are followed. Some editors suggested the ADL formalize a relationship by establishing a "Wikipedian-in-residence" position. Responding to criticism, one ADL account defended the efforts claiming they believe it followed policy, but committed to not editing the ADL page further and better adhering to policy. Eventually, the ADL staffer stated they were ending the effort, but were considering a "Wikipedian-in-residence" position.
Paid editing has been an ongoing problem where many Wikipedia editors are paid to protect articles on figures in politics, media, and tech. Site policy allows it provided it is disclosed with paid editors strongly encouraged to not edit pages directly, but undisclosed paid editing occurs regardless with one recent case involving an adviser to Joe Biden. Editors with conflicts of interest yet not paid for edits are similarly discouraged from editing pages directly, though policies are more permissive. In several cases, 2020 Democratic Presidential candidate pages were created or fluffed up by paid and volunteer campaign staff, including the page on Kamala Harris prior to Biden announcing her selection as his Vice President.
Wikipedia's issues with paid editing are merely one facet of the site's myriad issues. The site is often relied on for information by media, academia, and Big Tech, and this has led to the spreading of hoaxes. Numerous controversies and cases of bias afflicted the site in its 20th year with its left-wing bias of particular interest as site co-founder Larry Sanger has repeatedly criticized Wikipedia's left-wing bias, which has also been identified in several studies and analyses. Despite these issues, corporate media have widely praised Wikipedia and the site's owners have capitalized on this by introducing a commercial service to deepen their relationship with Big Tech.
(Disclosure: The author has previously been involved in disputes on Wikipedia with some parties referenced in this article)

T. D. Adler edited Wikipedia as The Devil's Advocate. He was banned after privately reporting conflict of interest editing by one of the site's administrators. Due to previous witch-hunts led by mainstream Wikipedians against their critics, Adler writes under an alias.
9
« Last post by Private on Today at 06:27 »
Topanga, CA is mostly White (78% according to the Census Bureau) but hardly posh. The home is so far from a "mansion" as to be laughable.
This is the house (a good deal for 1.4 million):
It's understandable that someone who isn't familiar with California might think 1.4 million is mansion money but even a semidetached house can cost more than that in California. As with most home "owners" the house is probably, in reality, owned by the bank and she pays a mortgage.
The High School in Topanga:
This doesn't make it any better for her. If she were going to buy a mansion she would have little choice but to live in a White neighbourhood but there are probably three bedroom houses in some black hoods.
10
« Last post by Private on Today at 06:15 »
LIST OF 7 HOTELS Housing Immigrants Who Are Part Of Massive Foreign Invasion Of America
Apr 7, 2021
Best Western Plus El Paso Airport Hotel

Comfort Suites ChoiceHotels.com
Up the road a mile and a half from the Best Western, another 158 beds are available at the Comfort Inn. The Comfort Inn will be referred to as the "Casa Consuelo," or House of Consolation.

Holiday Inn Express & Suites Phoenix/Chandler

"La Casa de la Luz," or House of Light, for the Holiday Inn will accept more than 200 people starting Friday. It is located 15 miles southeast of Phoenix in Chandler and has a large pool.



WoodSpring Suites Pecos

Starting April 30, 107 beds will be available for families brought to the WoodSpring Suites in Pecos, Texas. "La Casa de La Paz," or House of Peace, has in-room kitchens and living rooms rather than just bedrooms.

Hampton Inn Cotulla

The Hilton brand's Hampton Inn, "Casa Esperanza" or House of Hope, and Wyndham's Microtel, "Casa de Compasion" or House of Compassion, in Cotulla will hold approximately 338 people combined.



Microtel Inn & Suites by Wyndham Cotulla
Phoenix's Sure Stay Best Western motel rooms will hold 142 people as the "Casa de Alegria" or House of Joy. It is located close to the airport.



| Church Links | Holy Books | W.R.L. Friends | Holoco$t Links |
| --- | --- | --- | --- |

LEGAL NOTICES
Due to a 2003 CE decision in the US 7th Circuit Court Of Appeals, the name "Church of the Creator" is the trademarked property of a Christian entity known as TE-TA-MA Truth Foundation-Family of URI®. Use of the name "Church of the Creator" in any context is historical, and is presented for educational purposes only. The Church of Creativity makes no attempt to assume or supersede the trademark. Trademark remains with the trademark holder. [More ...]
 
The Church of Creativity is a Professional, Non-Violent, Progressive Pro-White Religion. We promote White Civil Rights, White Self-Determination, and White Liberation via 100% legal activism. We do not promote, tolerate nor incite illegal activity. [More ...]
---