Recent Posts
1
« Last post by Private on Today at 14:41 »
2
« Last post by Private on Today at 12:16 »
Is that supposed to be George Soros as the Fat Man? Or is it the evil Harry Potter wizard that throws lightening from his fingers in Star Wars?






3
« Last post by Private on Today at 09:48 »
We all know that the Chinese Virus was brought to us by ZOG!
4
« Last post by Private on Today at 01:12 »
https://www.nbcnews.com/news/us-news/racism-declared-new-york-city-public-health-crisis-n1281929
Racism declared a New York City public health crisis
www.nbcnews.com
The New York City Board of Health has declared racism a public health crisis and issued guidelines to achieve a more "racially just" recovery from the Covid-19 pandemic.
"To build a healthier New York City, we must confront racism as a public health crisis," according to a statement from Dr. David A. Chokshi, who serves as the board chairperson and is the commissioner of the city's Department of Health and Mental Hygiene. "The Covid-19 pandemic magnified inequalities, leading to suffering disproportionally borne by communities of color in our City and across the nation."
The health inequalities along racial lines are not inevitable, and the board's resolution, which was adopted Monday, was meant to recognize "this crisis and demand action," Chokshi said.
The board also offered recommendations for the city's health department.
They include reviewing how policies have contributed to racial health inequities, making suggestions to the city's Racial Justice Commission, forming a "data for equity" group to ensure the department interprets health data through an anti-racism perspective. Other recommendations include working with agencies to report fatalities and health conditions by race, and issuing a progress report twice a year to the board about the resolution.
The city's Board of Health oversees the health code enforced by the Department of Health.
The department on June 8, 2020, released a statement declaring racism a public health crisis.
"The NYC Department of Health and Mental Hygiene is committed to addressing structural racism within our own institution and addressing racism as a social determinant of health as part of our mission to protect the health of New Yorkers," the statement from 2020 read.
Other municipalities and agencies throughout the country have acknowledged a link between racism and public health.
The American Public Health Association reported that between 2019 and October 2020, about 70 cities, three dozen counties and three states declared racism a public health crisis.
Kansas City, Missouri, and Indianapolis used their declarations to determine how to dispense public funding. The mayor of Holyoke, Massachusetts, a predominantly white community of about 40,000 residents, used a declaration to make Juneteenth a paid city employee holiday. The Minnesota House passed a resolution vowing to "actively participate in the dismantling of racism."
Earlier this month, a study led by researchers with the National Cancer Institute, concluded Covid-19 killed a disproportionate number of Blacks, Latinos and Native Americans last year and exacerbated health disparities among the groups.
In April, the Centers for Disease Control and Prevention called racism a "serious threat" to public health, becoming the largest, U.S.-based health agency to single out racism as having a "profound and negative impact on communities of color" and contributing to disproportionate mortality rates.
5
« Last post by Private on Today at 00:48 »
White House: 'No Surprise' Biden Is Flying Migrants into States at Night
October 20th, 2021
*
White House Press Secretary Jen Psaki suggested that President Joe Biden's Catch and Release operation, wherein border crossers are flown to various states for resettlement, is standard policy.
This week, the New York Post unveiled that the Biden administration has been for months flying border crossers and Unaccompanied Alien Children to New York and Florida from Texas.
During a press conference on Tuesday, Psaki shrugged off the Catch and Release operation as nothing more than standard Department of Health and Human Services (HHS) policy. "Well, I'm not sure it's in the middle of the night but let me tell you what's happening here … it is our legal responsibility to safely care for unaccompanied children until they swiftly can be unified with a parent or a vetted sponsor,"
One consolation is that they will end up as always in their own 'ghettos' and victims of negro crime statistics
The border crossers and UACs are being flown into the Westchester County Airport in Westchester County, New York, from Texas before getting on buses bound for New York City neighborhoods like the Bronx, Brooklyn, and Queens, along with upstate neighborhoods like Newburgh and Bridgeport, New York, and Danbury, Connecticut. Other border crossers and UACs are also being flown to the Jacksonville International Airport in Jacksonville, Florida, before getting bussed to the Twin Oaks Academy, a detention center for juveniles, near Tallahassee, Florida...
The latest HHS data shows that from October 2020 to August 2021, nearly 92,500 have been resettled across the U.S.
More than 3,600 have been resettled in Los Angeles County, California, while thousands more have gone to counties in Florida and New York.
6
« Last post by Private on Yesterday at 17:33 »
In Memory of Antifa Member's Death – Rioters Tear Through Portland Causing $500,000 in Damage
October 18, 2021
*
At least 100 self-proclaimed anarchists tore through Portland, setting dumpsters aflame, smashing windows and causing $500,000 in damage, but police stood idle because of a new state law that restricts how law enforcement can respond to riots.
The city just reached the 'grim' milestone of 1,000 shootings through 2021 in what has been a year of destructive protests, violent street clashes and a police staffing crisis.
Now police say a recently passed law ties their hands even further as it prohibits police from using crowd control techniques like pepper spray or tear gas.
Instead, law enforcement agencies are told to rely on follow-up investigations to hold rioters accountable. Portland's latest round of violence broke out after a memorial for Sean Kealiher, an Antifa activist who was struck and killed by an SUV in October 2019
after getting in a fight with the driver at a bar earlier that night.
Police have not made any arrests in connection to Kealiher's death, though his mother Laura believes they have identified the culprits. She organized last Tuesday's protest on Twitter, writing that
it was 'not a peaceful event' and dubbing it 'a night of rage and anger.'
Laura Kealiher who has a Twitter account with a title 'ACAB' (All Cops Are Bastards) called for the get-together in memory of the Antifa youth. It was advertised as not family-friendly. Kealiher also referred to this as a night of rage and anger.
7
« Last post by Private on Yesterday at 16:46 »
And of course, the obvious part is that Kane was used as a token reference to the "talented negroes" BS. No White player would have ever been tolerated, after betting on his own team and still allowed to play. When you are playing and traveling with a team, how can you have time to blow $49 million dollars?
Evander Kane Has Earned $49 Million in the NHL but Just Lost Everything
*

8
« Last post by Private on Yesterday at 16:41 »
NEW: NHL Suspends Sharks' Evander Kane for 21 Games for Submitting Fake Covid Vaccine Card
October 18, 2021
Domestic abuse allegations, earning $millions and filing for bankruptcy, sued by a bank, sued for assault, betting on his own team, fake Covid card
*
Evander Kane, one of the NHL's few black players has been suspended for 21 games for submitting a fake Covid vaccine card
, according to Sportsnet. A decision that will cost him about $1.68 million in pay. "San Jose Sharks forward Evander Kane has been suspended for 21 regular-season games without pay, for an established violation of, and lack of compliance with, the NHL/NHLPA Covid-19 Protocol. Under the terms of the Collective Bargaining Agreement, the forfeited pay goes to the Player's Emergency Assistance Fund," the NHL said in a statement.
The NHL also announced Monday that a separate investigation into allegations of domestic abuse against Kane by his estranged w
ife could not be substantiated.
Some may say that White players also have their problems, but have never seen a player so unfocused on his sport
9
« Last post by Private on Yesterday at 13:20 »
Another corporation showing its anti-White hatred. This maybe harder for my more rural Brothers and Sisters , but it's time to
boycott
Walmart and the rest of these anti-White businesses. It's
ALRIGHT TO BE WHITE
! RaHoWa!!!
https://www.nationalreview.com/news/walmart-crt-training-encourages-employees-to-accept-that-white-is-not-right/
Walmart Critical Race Theory Training Encourages Employees to Accept That 'White Is Not Right'
www.nationalreview.com
Walmart has put more than 1,000 employees through a critical race theory training that teaches that the U.S. is a "white supremacy system" and that white trainees are guilty of "white supremacy thinking" and "internalized racial superiority," according to a new report.
Whistleblower documents obtained by City Journal's Christopher Rufo reveal that Walmart first launched the program, which is based on the core principles of critical race theory, in 2018 in partnership with the Racial Equity Institute.
SCOOP: @Walmart has launched a critical race theory training program that denounces the United States as a "white supremacy system" and teaches white hourly-wage workers that they are guilty of "white supremacy thinking" and "internalized racial superiority."

Buckle up.🧵

— Christopher F. Rufo ⚔️ (@realchrisrufo) October 14, 2021
The company has made the program mandatory for executives, while it is recommended for hourly-wage workers. Rufo calls out Walmart over its hypocrisy, noting that its whole nine-member top executive leadership, except technology chief Suresh Kumar, is white.
Walmart confirmed to Rufo that it has "engaged REI for a number of training sessions since 2018" and has "found these sessions to be thought provoking and constructive."
The training claims that the U.S. is a "white supremacy system," created by white Europeans "for the purpose of assigning and maintaining white skin access to power and privilege," according to the report.
The program suggests that white people are guilty of "white privilege" and "internalized racial superiority," the belief that "one's comfort, wealth, privilege and success has been earned by merits and hard work" rather than through the benefits of systemic racism. The training claims that the "white supremacy culture" is defined by several qualities, including "individualism," "objectivity," "paternalism," "defensiveness," "power hoarding," "right to comfort," and "worship of the written word."
It adds that "discussions about racist conditioning" should occur in racially segregated groups as "people of color and white people have their own work to do in understanding and addressing racism," the report notes.
According to the training, employees who are racial minorities suffer from "constructed racist oppression" and "internalized racial inferiority" and struggle with internal messaging such as, "we believe there is something wrong with being a person of color," "we have lowered self-esteem," "we have lowered expectations," "we have very limited choices," and "we have a sense of limited possibility."
This harmful internal thinking forces them to buy into the "myths promoted by the racist system," according to the training, and to develop feelings of "self-hate," "anger," "rage," and "ethnocentrism," and they are forced to "forget," "lie," and "stop feeling" to survive.
The program suggests that the solution is for white people to work on "white anti-racist development" and to accept their "guilt and shame" and that
"white is not right."
Ultimately they should work toward "collective action" where "white can do right."
CREATIVITY IS ALWAYS AHEAD OF THE CROWD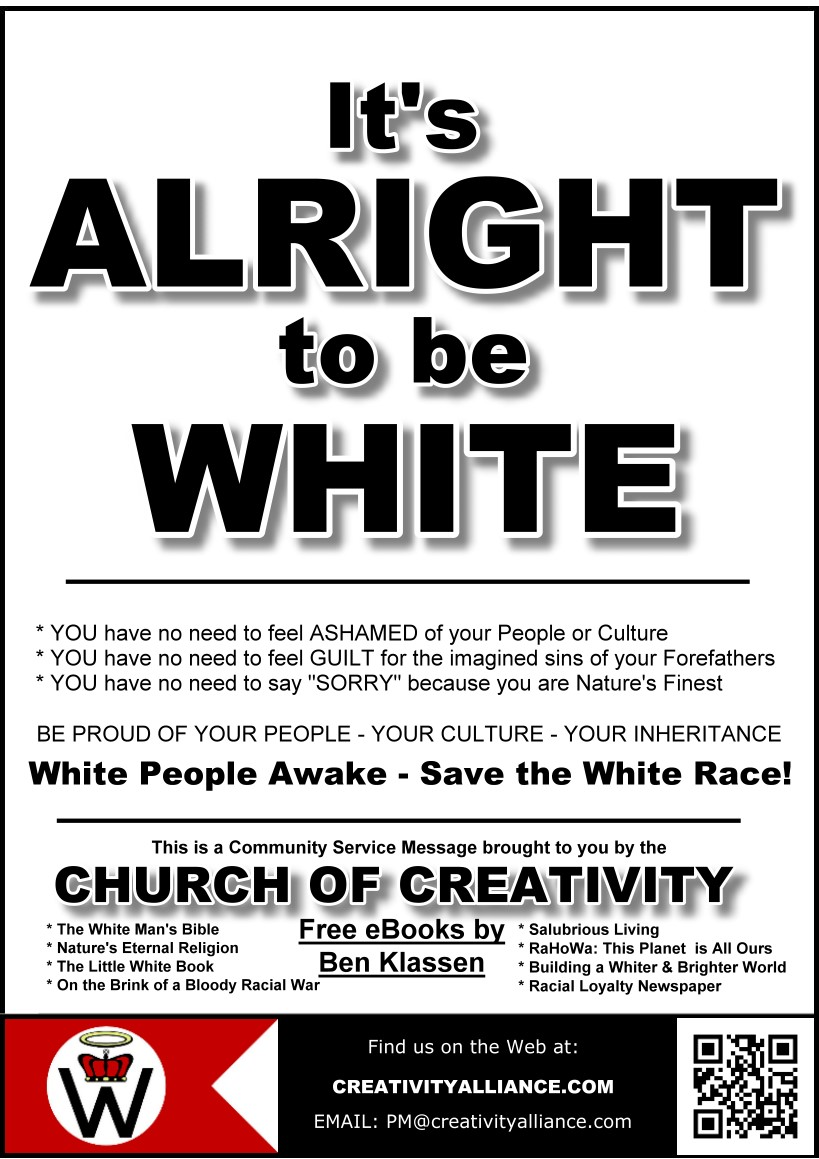 More Flyers in the Gallery
https://creativityalliance.com/forum/gallery/category/5
10
« Last post by Private on Yesterday at 11:57 »
Good riddance to the nigger that sent tens of thousands of our good White stock to die in useless wars.
https://www.nbcnews.com/politics/politics-news/former-secretary-state-colin-powell-dies-covid-complications-n1281746
Former Secretary of State Colin Powell dies from Covid complications
Oct. 18, 2021, 7:17 AM CDT / Updated Oct. 18, 2021, 12:43 PM CDT
By Rebecca Shabad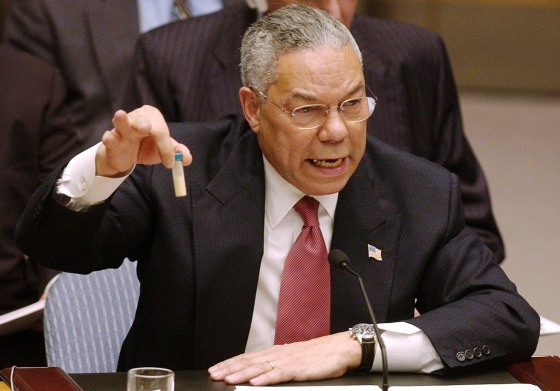 "FAKE WMD's in Iraq - WAR! WAR! WAR!"
WASHINGTON — Colin Powell, the retired four-star general who became the country's first Black secretary of state and chairman of the Joint Chiefs of Staff, died Monday due to complications from Covid-19, his family said in a statement on Facebook.
Powell, 84, was fully vaccinated from Covid-19, his family said, and had been treated at Walter Reed National Medical Center, but was suffering from serious underlying conditions.
| Church Links | Holy Books | W.R.L. Friends | Holoco$t Links |
| --- | --- | --- | --- |