That fat, retarded Caroll boy that threatened to murder Creators is about to be released from prison. Any Creator that meets Hardy Caroll Lloyd in the street, should be prepared to kill him on the spot - Self Defence of course. If you are going to allow him to live, make sure that Race-Traitor is humiliated and you have it on video. :ok


Hardy Caroll Lloyd spent time in Seagoville-Texas No-Security Federal Prison. Church Lawyers inform us that Lloyd had signed multiple statements against other prisoners in Pennsylvania and was sent to Seagoville as a reward for his services and his protection. Lloyd is believed to be still working for the Feds.

Source: https://creativityalliance.com/prison-ministries/snitches

White supremacist Hardy Caroll Lloyd to be released to Pittsburgh halfway house

Paula Reed Ward | TribLive (https://triblive.com/) (PA - USA) | 6 October 2020

https://triblive.com/local/white-supremacist-hardy-lloyd-to-be-released-to-pittsburgh-halfway-house


2003 'World Church of the Faggots'

2009 'Death to all white people and anglo-saxons'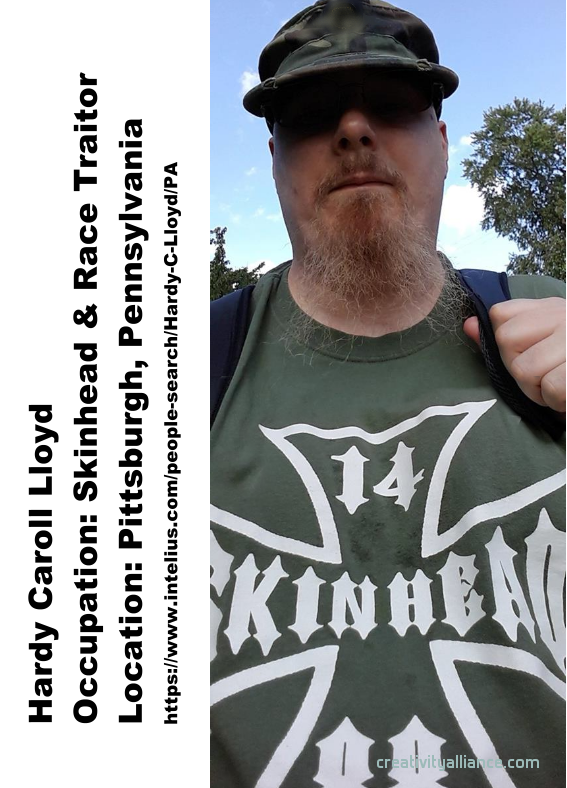 A man who has spent the last 19 years in and out of state and federal prison because of weapons violations and hate speech is scheduled to be moved to a halfway house on Tuesday.

Hardy Caroll Lloyd, 42, has a maximum release date from the federal Bureau of Prisons of Dec. 31. He will spend the last few months of his sentence at a halfway house in Pittsburgh, learning how to transition back into society.

His release from the Federal Correction Institution-McDowell, a medium-security facility in Welch, W.Va., has prompted law enforcement to start spreading the word in the community to be extra-vigilant.

"He's somebody who's been on law enforcement's radar for close to 20 years now," said Shawn Brokos, the director of community security for the Jewish Federation of Greater Pittsburgh. "We can't control his ideology. We can't control his hate.

"But we can control how we respond to it — by being vigilant and well trained."

Lloyd's attorney did not return a message seeking comment.

Brokos, a retired FBI agent, said she has spent the last several weeks sharing information about Lloyd within the Jewish community.

Lloyd was charged with killing his girlfriend, Lori Hann, on Aug. 3, 2004. She was shot in her face in front of a Squirrel Hill home after police said the two had an argument.

At the time of the shooting, watchdog organizations who track hate groups said they believed Lloyd had recently broken from one group to preach as a "lone wolf."

When police searched his apartment following the shooting, they found a certificate declaring him a member of the World Church of the Creator, as well as dozens of books on Adolf Hitler and white supremacy, including "White Power."

Although investigators were familiar with Lloyd from his internet postings and leaflets he distributed preaching violence against non-whites, Jewish people and law enforcement, they said Hann's killing was not related to his ideology. Lloyd, the son of a Shadyside doctor, was diagnosed with Asperger's syndrome as a child. His family has said he had disavowed white supremacy.

At trial in November 2006, Lloyd was found not guilty of criminal homicide. His attorney argued that he killed Hann in self-defense.

The jury did convict Lloyd of carrying a firearm without a license. He was ordered to serve 11-1/2 to 23 months in jail with three years probation.

In April 2009, two days after Richard Poplawski shot and killed three Pittsburgh police officers in Stanton Heights, Lloyd posted to his website and wrote an email praising Poplawski's actions, according to an affidavit of probable cause filed in federal court.

He wrote, " 'We are meant to kill and die;' 'Being a racist and a revolutionary means you suffer and make others suffer;'

'Death to all white people and anglo-saxons;' 'follow my wolf philosophy as Richard did.'"

On Lloyd's blog, investigators found a picture of a shotgun, with the caption, " 'The best gun I ever used! No revolvers needed, babe!' "

That information was used as probable cause to conduct a search of Lloyd's home, where investigators found 10 firearms, including two handguns that were fully loaded.

In November 2009, he was charged with being a felon in possession of a firearm.

He pleaded guilty six months later and was ordered to serve 30 months in federal prison to be followed by three years supervised release.

However, he violated the terms of his supervised released by posting messages online in which he called for violence against the Pittsburgh police, and his release was revoked. In August 2016, Lloyd was sentenced to 14 months in prison to be followed by 22 months of supervised release.



Then, again, in December 2017, Lloyd was found to have violated his release by circulating anti-Semitic fliers in Shadyside and using computers to watch violent videos and order weapons. He was ordered to serve 13 more months in prison to be followed by nine months supervised release.



On Aug. 15, 2019, Lloyd was again found to have violated the conditions of his release — by making statements about the assault weapons ban in Pittsburgh. He wrote that "Anyone who supports such laws must be targeted, and their families murdered." He also told "Lone Wolves" to "get busy."

Lloyd was ordered to serve 24 months in prison, with a max-out date of Dec. 31.

Brokos said that police agencies will watch Lloyd as closely as possible because he's a potential threat not only to the Jewish community but to law enforcement and other groups.

"Law enforcement monitors individuals who have very strong hate ideology in combination with violence," she said. "He has a history in the community of sharing and being very vocal about his anti-Semitic views."

Brokos said her job is to make the community aware and help them identify safety concerns. Lloyd is known to have ties to white supremacist groups, she said.

Traditionally, while living in a halfway house, residents are given windows of time where they are permitted to leave for work or other appointments. Sometimes, they are placed on GPS monitoring. The rules are controlled by the facility and not the courts.

Once Lloyd reaches his maximum release date, neither the courts nor federal prison system will have any power over him. That means that Lloyd will be again permitted to use computers, blogs and speak any way he wants. Because of his criminal record, he is forbidden from owning firearms.

It is only if he commits a new crime that law enforcement would again be involved.


---

That fat retarded skinhead has a history of threatening Whites, but the only thing the MSM focuses on is his "threat" to the Jew. A threat that is as non-existent as it is imaginary. The only person that Caroll boy has ever killed was a White Woman. It's not the Jew that needs worry - that's all piss and wind. The one that does need to worry is any White that is dumb enough to get close to him and give him the opportunity to act out his fantasies of murder ...


Pittsburgh Jewish Community Urged to 'Be Vigilant' After Violent White Supremacist Freed From Jail

https://www.algemeiner.com/2020/10/07/pittsburgh-jewish-community-urged-to-be-vigilant-after-violent-white-supremacist-freed-from-jail

Excerpt: Lloyd was active with white supremacist groups for nearly 20 years, having begun his career as a racist with the World Church of the Creator, a violent organization that blends occult mysticism with antisemitic and racist ideology.
He's a total loony.


That fat, retarded Caroll boy that threatened to murder Creators .... Any Creator that meets Hardy Caroll Lloyd in the street, should be prepared to kill him on the spot - Self Defence of course. If you are going to allow him to live, make sure that Race-Traitor is humiliated and you have it on video. :ok

Do not promote him in any way at all. Our racial enemies use him and others like him as a weapon against our religious advances. One cannot underestimate the damage that psychopath Hale and his recruited loonies and traitorous skinhead wiggas with swastikas have done to CREATIVITY. They existed barely seven years, but near twenty years after their demise, CREATIVITY's still dealing with their legacy. All simply because they seem popular with the kikes and commies.

We only mention Caroll Boy and his kind when they get into the MSM, because

we need to keep track of them for our own purposes

. There's that, and the fact that when they are tied to CREATIVITY, we need to publicly disassociate the CHURCH OF CREATIVITY from those Untermenschen.

Cailen.

Edit: Link supplied by Private. The article was written long ago by a Leftard, but it was correct then and is still correct today about that traitorous skinhead lunatic, the Caroll Boy.

https://www.post-gazette.com/life/dennis-roddy/2004/08/08/About-Hardy-Lloyd/stories/200408080209