Jobs coup in 50,000 Filipino worker deal for SA
Michael Owen, Political Reporter: The Advertiser | July 10, 2008
http://www.news.com.au/adelaidenow/story/0,22606,24006453-5006301,00.html
ADELAIDENOW SCOOP: AN IMMIGRATION agreement with the Philippines will deliver up to 50,000 skilled workers to South Australia over the next decade.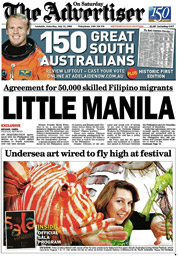 Deputy Premier Kevin Foley, who is on a nine-day trade mission to Malaysia and the Philippines, told The Advertiser yesterday a memorandum of understanding between the two governments would help streamline the immigration process.
A special program will be introduced by the Philippines, under its Labour and Employment Secretary Arturo Brion, for SA companies to employ "highly trained" Filipino workers.
About nine million Filipinos work overseas, sending back "remittances" of about $15 billion a year that is vital to the economy of the Philippines.
Despite criticism of the personal and social cost of having 10 per cent of the population registered as Overseas Filipino Workers, the Philippines Government accepts the practice as a reality of life and has a policy of regulation.
Mr Foley said the SA agreement was modelled on a similar one signed in February between the Philippines and the Canadian province of Manitoba.
Under the agreement, yet to be formally signed, registered employers are connected with licensed immigration agencies in the Philippines that will pre-screen and prepare skilled workers to move to SA.
'"We will work with industry and business to identify the skill gaps and the needs," Mr Foley said. "We would be the first Australian Government to enter into a formal relationship with the Philippines Government to bring in skilled Filipino labour.
"There is no reason why as early as next year we should not be seeing a flow of workers into South Australia, provided businesses themselves join us in wanting to make this work.
"The Government can only do so much."
Mr Foley predicted about 50,000 skilled Filipino workers would come to SA in the next five to 10 years, with most expected to become permanent residents. "That is what has happened in Manitoba, Canada, and they have a similar population to us," he said.
"The mining boom and the defence projects alone will require us to find at least an extra 300,000 workers in the next 10 years. There are simply not enough workers in Australia.
"Filipino workers are attractive because they speak excellent English, and they are very dedicated, disciplined and productive workers, and highly skilled."
Filipino workers are expected to come to SA for employment in manufacturing, steel fabrication, mining, nursing, hospitality, electronics and advanced manufacturing sectors.
One SA company, which had representatives travelling with Mr Foley, employs about 400 welders, steel fabricators and boilermakers. Half of its workforce already has been sourced from the Philippines.
Mr Foley said a number of SA companies had already "beaten a path to the Philippines to look for workers".
The visa process and required Federal Government policies were in place, he said.
Most Filipino workers were expected to travel to SA on a 457 visa. That will allow them to stay for between six months and four years for work.
Mr Foley said the biggest hurdle was ensuring the skills obtained in the Philippines by workers were recognised in Australia.
"That will require some form of presence in the Philippines and we may need to sponsor a training institution in the Philippines to ensure workers coming to Australia are properly accredited," he said.
"That is the biggest challenge but I think we can jump that hurdle relatively easily."
The State Government already is helping to set up one private training centre in the Philippines to ensure local tradesmen and workers can meet Australian standards and be accredited to work in SA.
"We can do better than an ad hoc approach where SA companies come up here on their own, and the Philippines Government also would like to have a co-ordinated approach," Mr Foley said.
"This won't solve our skills crisis, but this initiative alone has the potential to help address a looming skills shortage in SA."
Earlier this week in Malaysia, Mr Foley said he had a "very productive" meeting with the chief executive of Malaysia Airlines to seek more direct flights to Adelaide.
"We are confident they will increase the number of flights into Adelaide," he said.
The State Government trade delegation returns to Adelaide on Monday.
---
Migrant Workers: A New State Rises
Kim Wheatley, Chief Reporter: The Advertiser | July 12, 2008
http://www.news.com.au/adelaidenow/story/0,22606,24006456-5006301,00.html
THE face of South Australia is set to change dramatically over the next 10 years, with predictions we will have a younger, more multi-cultural population and our country towns once again will be vibrant, thriving hubs.
Premier Mike Rann and key business leaders believe while many of the extra 133,000 workers needed to keep pace with the defence and mining booms will be migrants, South Australians will be in the box seat for the jobs bonanza.
"How we'll be in 10 years time is that rather than be an ageing population we will see an influx of young people from overseas and interstate," Mr Rann said….
The Government also believes SA is undergoing an education renaissance, pointing to 6000 overseas students in 2000 and almost 24,000 in 2008….
"In five or 10 years time, I think you'll see a state that is at full employment, but is culturally different because of a changing in the mix of the population," EDB chairman Bruce Carter said.
"If its a large Filipino community or a large Indian community or a large community from Somalia they have to be, as much as Greeks and Italians underpinned us 30 years ago . . . welcomed and integrated into our community….
[more …]
---
Comment:
Another comment sent to The Advertiser and refused. (BTW, I really wanted to comment about the import of 50,000 Filipino prostitutes, but I thought ridicule of typical Filipino traits would be too stereotypical of an Evil White Racist, and if you want your comment to be accepted for publishing by the so-called legitimate media, comments like that are better off left unsaid.)
"This is just typical of today's style of government. Rather than train unemployed locals to fill positions, they ignore unemployment, with false claims that more workers are needed to fill vital jobs and then spend millions in "sponsered training" in an effort to import tens of thousands more from over seas. If that is not enough to condemn any government, this government also boasts that $15 billion a year will leave South Australia's already struggling economy to benefit a foreign nation. – And they say Labor is for the working man? Try pulling the other one, it play's jingle bells."
http://www.news.com.au/adelaidenow/story/0,22606,24006453-5006301,00.html
Cailen Cambeul, Adelaide.