The Advertiser | 8 June 2008
http://www.news.com.au/adelaidenow/story/0,22606,23828355-2682,00.html
THE first stage of the State Government's three-pronged legislative attack on outlaw bikie gangs and their associates comes into force today.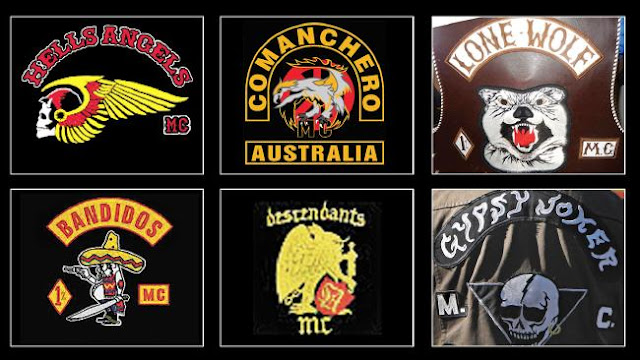 Gang members involved in brawls or those threatening witnesses will be charged with new offences under the Public Order Offences Act, which carries penalties of up to 10 years' jail or fines of up to $10,000.
The new charges available to police are Riot, Affray and Violent Disorder.
Update May 2023: "Affray" is the charge that Whites are hit with IF they dare to fight back when attacked by violent criminal Blacks and Antifa types of any race in South Australia. The attackers are never charged. This is just one example of special laws brought in specifically against what the government calls Criminal Outlaw Motorcycle Gangs, and are now used to protect violent Marxists and Aboriginal, Polynesian, African and Middle Eastern nigger wannabe gangsters. Fuck the Police!
They have been designed specifically to target offenders who have previously escaped justice because of witness intimidation or situations in which witnesses – such as rival gang members – have refused to give evidence against the accused.
Attorney-General Michael Atkinson said yesterday the new legislation would set the scene for the pending Serious and Organised Crime Act and the Firearms Prohibition Act that would both be introduced soon.
All three legislative measures are aimed at disrupting, dismantling and discouraging the activities of crime gangs in South Australia.
"The Act equips police with the tools to further pursue members and associates of criminal gangs who engage in group violence – particularly those involved in outlaw motorcycle gangs," he said.
"It's been difficult to secure convictions when bikies and their associates have engaged in violent brawls with rival gangs. Victims, including other gang members, have refused to co-operate with police.
"The only option has been to charge these criminals with minor offences such as disorderly conduct, which carries a maximum penalty of just three months' jail."
Riot: Under the new Act, a person is guilty of riot if they are part of a group of 12 or more who use or threaten violence for a common purpose of causing a reasonable person fear. The maximum penalty is seven years' jail or 10 years for an aggravated offence.
Affray: Any person who uses or threatens violence towards another that would cause them fear is guilty of affray. Another example of affray is a fight between two or more people with a level of violence that causes an innocent bystander to fear (not just be concerned) for their safety. An offender faces up to three years' jail and five years for an aggravated offence.
Violent Disorder: A violent disorder charge can be used when three or more people use or threaten violence and cause a person fear. The maximum penalty is a $10,000 fine or two years' jail.
Both the Serious and Organised Crime Bill and the Firearms Prohibition Bill have passed through both houses of Parliament, but have not yet been assented to by the Governor, Rear Admiral Kevin Scarce.
The Firearms Prohibition Bill passed the Upper House on Thursday night, paving the way for police to shortly issue prohibition orders against bikie gang members.
Those subject to a prohibition order will face a 15-year jail term if they are caught breaching it. Under the Act police will have the power to stop and search any person subject to an order on sight. Their home and vehicle can also be searched.